This RealAudio broadcast from NPR, titled Nature's Medicine, is an interview with Joel Swerdlow, author of Nature's Medicine: Plants That Heal from National Geographic. This interview is more about the health-promoting effects of a diverse diet that includes plenty of fruits and vegetables, than about using plants as medicines. The medicinal components of some plants is explored, with the "magic bullet" theory that was popular throughout most of the 20th century.
Click here!
and hear about Nature's Medicine from NPR
If you have trouble playing the audio clip, click HERE to make sure you have the latest audio player.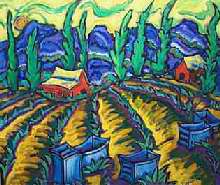 painting by Klopfer